It's a big day for the ShareProgress team — we've just launched a complete redesign of the ShareProgress.org website. The site has been restructured to make navigation more intuitive and to provide a clearer explanation of how our social sharing tools can benefit organizations that want to reach a wider audience online.
We're also very excited to announce that ShareProgress is expanding the ways we help to advance progressive causes. In addition to our tools, we're offering direct consulting services to help progressive organizations use technology and data to run more effective programs. Specifically, we are:
Designing and developing websites that draw in new supporters using deep social media integration, gamification tactics, and other creative means of engagement
Providing digital analytics consulting to help organizations better understand their data and optimize their online engagement through A/B testing
Training organizational staff on how to use technology and data more effectively for their own work

The ShareProgress team has actually been doing this work for some time, but to a select group of clients. Based on our experiences so far, we've now decided that this will be core offering for ShareProgress going forward, since it helps to advance our mission to help progressive organizations achieve success through the use of data and technology.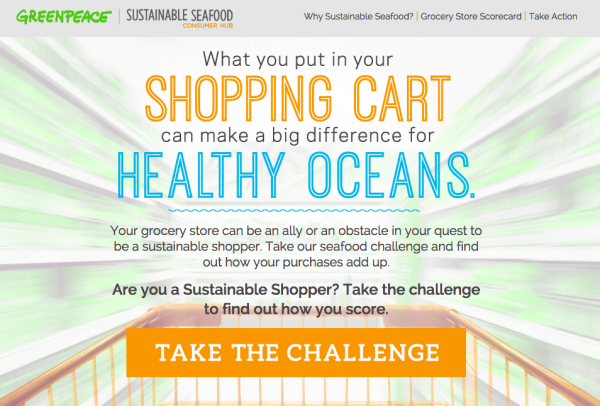 An interactive seafood shopping challenge microsite that ShareProgress built for Greenpeace USA
If these services seem like they could be useful for your organization, we encourage you to check out
examples of our past projects
in the new Services section of our website. And if you'd like to talk to us about a specific project idea,
please let us know
— we're eager to work with you to help make your vision a reality.
We hope you enjoy the new site!